La Universidad Cristiana Internacional El Shaddai facilita el crecimiento guiado por Espíritu Santo y el discipulado en los estudiantes, equipándolos como ministros y líderes en el cuerpo de Cristo.
Para el cumplimiento de este propósito, es fundamental que los estudiantes cuenten con un sólido conocimiento de la Biblia, una buena comprensión de la teología y una comprensión efectiva del ministerio, permitiéndoles a través del poder de Espíritu Santo, anunciar el Evangelio de salvación y sanación de Jesucristo.
Los cursos en historia, teología y filosofía, dan a los estudiantes una comprensión del pasado del cristianismo y de las dimensiones teológicas y filosóficas de la fe cristiana y sus expresiones contemporáneas. El apóstol Pedro nos anima a «siempre estar listo para presentar defensa ante todo el que nos demande razón de la esperanza que está dentro de nosotros…» (1 Pedro 3:15).
La sociedad de hoy está llena de una multitud de puntos de vista según el mundo, y son muchas las ideas acerca de la naturaleza de la realidad y la verdad. La teología y filosofía en la Universidad prepara a los estudiantes para entrar en los campos del pensamiento religioso y les confiere la práctica para dar testimonio de la Verdad.
Facilitador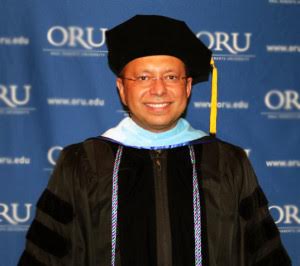 Henry Álvarez nació en Venezuela. Durante los veranos de 1983 a 1985, asistió a la Instituto Bíblico Central de las Asambleas de Dios en Barquisimeto. En 1987, se graduó de la Universidad de Zulia, Venezuela, obteniendo un título profesional en medicina, Doctor en Medicina, equivalente internacional certificado por World Education Services, Inc. En 1999 se graduó en la Escuela de Evangelización, JSM, en Crowley, Texas. En el 2005 ingresó a la Universidad Oral Roberts, donde estudio: Master of Divinity, Master of Arts en Literatura Bíblica (Concentración Literatura) y Master of Arts en Consejería Cristiana (Concentración en Terapia Familiar y Matrimonial); además tiene un doctorado en educación (E.d.D.) y otro en teología pastoral (P.h.D).
Desde 1991 ha estado en el ministerio a tiempo completo y ha fungido en diferentes lugares como misionero, pastor, maestro de la Palabra, evangelista, conferencista, y es mentor de pastores y líderes en diferentes países. Trabajo como director hispano del Instituto Bíblico "Victory" en Tulsa, Oklahoma. En 1987 fue ordenado al ministerio del Evangelio en Venezuela. Desde1997 mantiene credenciales de ordenación como Pastor y ministro ordenado del Evangelio por medio de Faith Christian Fellowship International Church, Inc., en Tulsa, Oklahoma, y en Toronto, Canadá es ordenado por medio de la Asociación Evangélica para la Educación y Evangelismo. Actualmente es presidente y fundador de Moedim Ministries and Christian Academic, Inc., Presidente de Universidad Cristiana Internacional "El Shaddai", McAllen, TX, y Presidente de The Ministerial Alliance for Education, Evangelism, and Discipleship.
Plan de Estudios
DOCUMENTOS GENERALES
Available in days
days after you enroll
1. SOTEROLOGÍA CON ÉNFASIS EN JUSTIFICACIÓN
Available in days
days after you enroll
2. LA FE BÍBLICA
Available in days
days after you enroll
Preguntas Frecuentes
¿Qué duración tiene el programa de Licenciatura en Artes Teológicas?
Nuestro programa de estudios para la Licenciatura en Artes Teológicas tiene una duración de 3 años.
¿Qué institución acredita mi título como Licenciado en Artes Teológicas?
La Transworld Accrediting Commission International (TACI) es la institución que nos acredita. TACI ha establecido altos estándares de excelencia para la enseñanza teológica. Esta institución acredita y asiste a escuelas teológicas, seminarios, universidades, colegios y programas académicos en todo el mundo. Según la revista Charisma en USA, es la agencia no gubernamental más grande y la de mayor crecimiento en el mundo. Conoce más de TACI aquí: http://transworldaccrediting.com/our-purpose/
¿Tiene mi título validez ante gobierno?
Nuestros programas de estudio no cuentan con una validez oficial ante gobierno, sin embargo contamos con otro tipo de acreditaciones que garantizan la calidad y excelencia de cada uno de nuestros programas.
¿Puedo transferir mis créditos educativos a otras instituciones?
No podemos garantizar la aceptación de los grados obtenidos aquí en otras instituciones de educación teológica, excepto en aquellas instituciones que estén acreditadas por Transworld Accrediting Commission International.
¿Puedo revalidar créditos educativos que haya tomado anteriormente en otras instituciones de enseñanza teológica?
Cualquier estudiante que llene los requisitos necesarios puede ser elegible para transferir hasta un máximo de 30 créditos en el nivel de Licenciatura por reconocimiento de estudios universitarios por experiencia ministerial. Cuando se solicita la admisión, aquellos estudiantes que desean reconocimiento de estudios universitarios deberán completar "La forma de experiencia ministerial".
¿Qué es el reconocimiento ministerial?
La Universidad Cristiana Internacional "El Shaddai" reconoce, en ciertos casos especiales, lo que se considera como la experiencia ministerial. Puede definirse como un galardón a la trayectoria y a los años de servicios en la obra del ministerio. Los estudiantes en niveles de Certificados, Licenciatura y Diplomas no podrán recibir créditos por experiencia ministerial. Los créditos aprobados dependerán de la junta de evaluación, la cual analizará cada caso individualmente y se regirá por el reglamento interno de la institución.
Si tienes más dudas o requieres de una mayor información no dudes en ponerte en contacto con nosotros al correo [email protected] o al teléfono, (449) 977 99 04, será un placer atenderte.
¿Qué esperas para iniciar?